Looking for a great escape & retreat from the busy city & wish it was nearby only? Fear not, we listed the 8 best retreats in Selangor which nestled in the heart of Malaysia, that offers a collection of retreats that promise a haven of serenity amidst nature's embrace. From the verdant landscapes to culturally immersive experiences, these retreats cater to a diverse array of preferences. 

Sekeping Serendah
Photo Credit : @Sekeping Serendah
Tucked away amidst the lush rainforests of Selangor, the Sekeping Serendah Retreat is a haven for nature enthusiasts and seekers of solitude. The retreat's architectural marvels blend seamlessly with the surrounding greenery, creating an immersive experience where guests can revel in the sights and sounds of the wilderness. The retreat offers a variety of accommodations, including glass boxes that allow guests to sleep under the stars while still enjoying the comfort of modern amenities. With an emphasis on sustainability and coexistence with nature, Sekeping Serendah Retreat beckons those who wish to disconnect from the digital world and find solace in the embrace of the natural realm.
Rates: from RM300 – RM1360
Activities: Swimming, jungle trekking, BBQ, relax
Website: https://www.sekeping.com/serendah/home
Address: SERENDAH FS, 43300, 48200, Selangor
The Sticks Eco Resort
Photo Credit : @The Sticks Eco Resort
Nestled amidst the undulating hills of Janda Baik, The Sticks Eco Resort emerges as a haven that champions the profound beauty found in simplicity. The resort's ethos rests on the belief that nature itself is the greatest luxury, and its rustic cottages stand as a testament to this philosophy. Thoughtfully designed to seamlessly merge with the natural environment, these cottages offer a retreat experience that embraces rustic charm and comfort in equal measure.
Rustic Elegance and Natural Integration: The Sticks Eco Resort transcends the conventional, inviting guests to indulge in a retreat experience that is deeply rooted in nature. The resort's rustic cottages are carefully crafted to coexist harmoniously with the surrounding landscape. Each cottage is a reflection of the resort's commitment to sustainability and reverence for the environment, resulting in accommodations that offer an authentic connection to the earth.
Activities:
Leisurely Nature Walk, Jungle Trekking.
White water rafting, tubing
Yoga and meditation sessions to foster inner peace.
Location: Lot 213 Jalan KKB – Fraser's Hill, Kuala Kubu Bharu, Selangor.
Website: https://thesticks.my
Katsuri Cabin
Photo Credit : @Katsuri Cabin
Nestled on the outskirts of Kuala Lumpur within the serene Hulu Langat district, Kasturi Cabin stands as Malaysia's inaugural luxury cabin experience. Here, you can unwind and rejuvenate in a tranquil and authentically rustic setting, perfect for an intimate gathering of up to six individuals.
Embraced by the serene natural beauty of Hulu Langat, this cabin offers a plethora of amenities, including a dedicated BBQ pit, a secluded infinity pool, and snug bedrooms. Should you require more spacious accommodations, consider exploring Kasturi Cabin's sister retreats, also situated in Hulu Langat. These sister properties, Gerimis Senja Villa and Norehan's Place, are tailored to accommodate larger groups of guests, ensuring an array of options for your retreat needs.
Activities:
Connecting with Nature
Poolside Relaxation
Location: Lot 1476 Jalan Pansoon, Kg Lubuk Kelubi Bt 20 1/4, Ulu Langat.
Website: https://www.daunretreats.com
Templer Park Rainforest Retreat
Photo Credit : @Templer Park
Tucked away within the lush embrace of the Templer Park Rainforest lies a haven of serenity and natural beauty – the Templer Park Rainforest Retreat. This remarkable retreat, conveniently located just a short distance from Kuala Lumpur, offers a respite from the urban hustle and bustle, inviting guests to reconnect with nature and find solace in the heart of the rainforest.
Accommodations in Harmony with Nature: At Templer Park Rainforest Retreat, the accommodations themselves become an integral part of the natural surroundings. Each chalet and villa is thoughtfully designed to harmonize with the rainforest environment, creating a seamless blend between the comforts of modern living and the raw beauty of nature. As you step into your dwelling, you're greeted by the warmth of wooden interiors, large windows framing captivating rainforest views, and the soothing sounds of the wilderness just beyond your doorstep.
Activities:
Nature Walks, Bird Watching, Waterfall Adventures
Location: 22, Jalan 3/2, Templer Heights, Templer Park, 48000 Rawang, Selangor, Malaysia
Website: https://www.tprr.net
Tadom Hill Resorts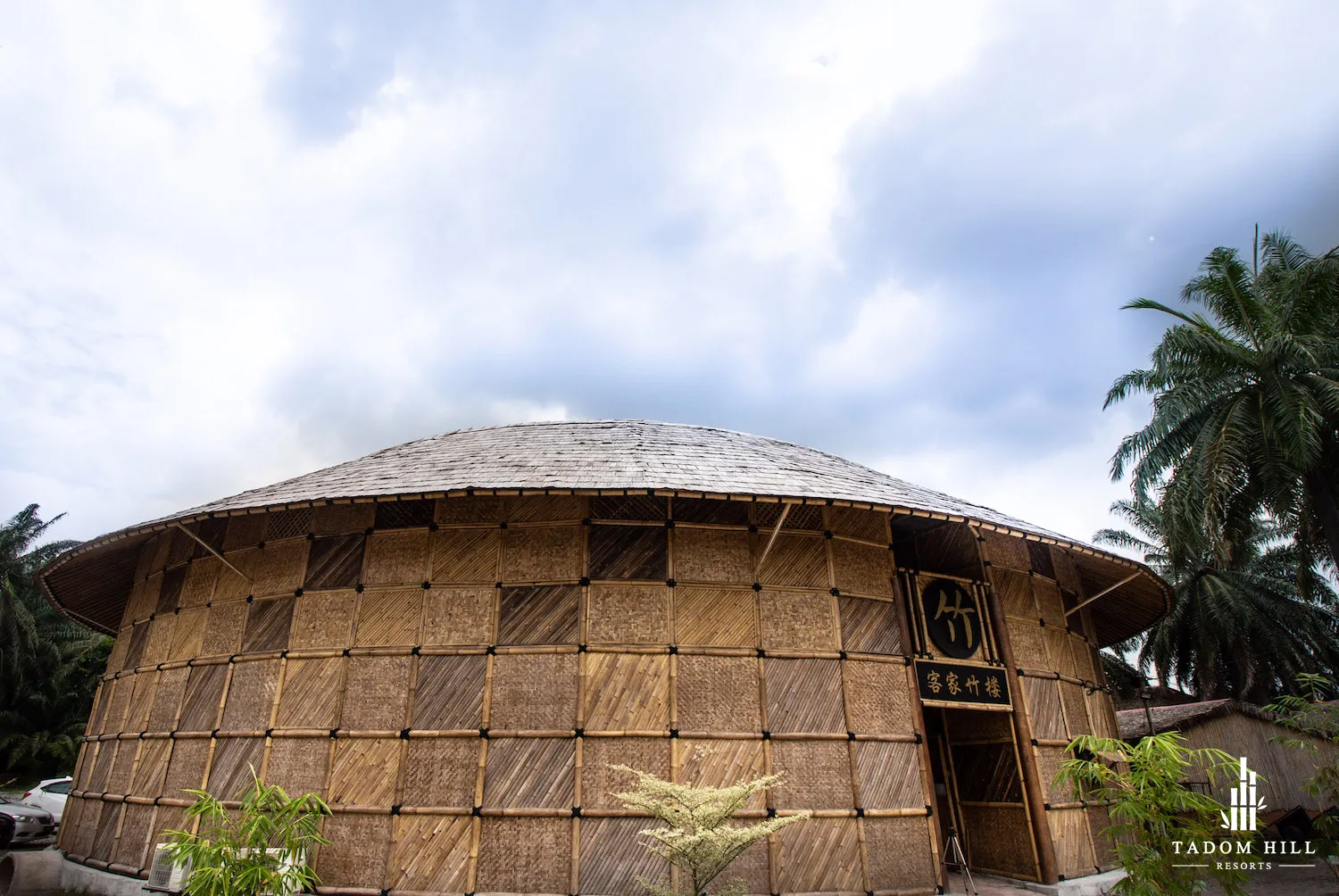 Photo Credit : @Tadom Hill Resorts
Nestled within the heart of nature, Tadom Hill Resorts offers a retreat experience that defies convention, inviting visitors to immerse themselves in a world of enchantment and creativity. Set against the backdrop of serene lakes, this one-of-a-kind resort beckons guests to embrace the unconventional and celebrate the beauty of nature in a truly unique manner.
Accommodations and Setting: At Tadom Hill Resorts, the accommodations themselves are a testament to the resort's commitment to unorthodox elegance. Traditional bamboo chalets, elevated above the tranquil lakes, provide guests with a stunning view that bridges the gap between nature and comfort. These bamboo huts, artfully constructed, seamlessly blend traditional craftsmanship with contemporary comfort, offering a distinctive stay that immerses guests in natural beauty.
Activities:
Bamboo Rafting, zip Lining.
Traditional Drumming Sessions
Cultural Workshops
Location: Bukit Tadom, Kampung Labohan Dagang, 42700 Banting, Selangor Darul Ehsan, Malaysia.
Website: https://tadomhillresorts.com
Villa Samadhi
Photo Credit : @Villa Samadhi
In the heart of bustling Kuala Lumpur, a haven of serenity awaits: Villa Samadhi. This luxurious urban retreat stands as a testament to the art of creating an oasis of tranquility amidst the city's energetic pulse. Inspired by traditional Malay architecture, the resort is a symphony of opulence and nature's beauty. With its spacious villas ensconced within lush gardens, Villa Samadhi encapsulates the essence of privacy, romance, and relaxation.
Traditional Malay Architecture Meets Contemporary Luxury: Villa Samadhi's design is a marriage of heritage and modern elegance. Drawing inspiration from traditional Malay architecture, the resort's aesthetic seamlessly intertwines with its natural surroundings. Each villa is a cocoon of luxury, characterized by wooden textures, opulent furnishings, and an ambiance that exudes comfort and charm.
Activities:
Poolside Relaxation
Spa Sanctuary
Location: 8, Jalan Madge, Taman U Thant, 55000 Kuala Lumpur, Wilayah Persekutuan Kuala Lumpura.
Website: https://www.villasamadhi.com.my/
Farm Ville Cafe & Homestay
Photo Credit : @Farm Ville Cafe & Homestay

Nestled in the picturesque town of Sekinchan, Farm Ville Cafe & Homestay, affectionately known as the "Sekinchan Container Hotel," offers a distinctive and immersive experience that transforms metal containers into havens of nature and relaxation. This charming retreat provides guests with a front-row seat to Sekinchan's iconic paddy fields, an awe-inspiring sight that takes on a whole new dimension during the maturing seasons.
Accommodations and Views: The unique charm of Farm Ville Cafe & Homestay lies in its creative use of repurposed metal containers. These containers have been ingeniously transformed into cozy and comfortable accommodations, offering a one-of-a-kind stay that fuses modern comfort with an eco-friendly touch. The highlight, however, is the unobstructed panoramic view of Sekinchan's renowned paddy fields that these accommodations provide. Guests can wake up to the golden hues of the maturing paddy fields, immersing themselves in the natural beauty that surrounds them.
Activities:
Nature Park
Sky Mirror
Paddy Factory
Pantai Redang
Poolside Relaxation, TV room, BBQ area, Mini Gold
Location: 11304, Jalan Tepi Sawah, Pekan Sekinchan, 45400 Sekinchan, Selangor
Beacon Resort
Photo Credit : @Beacon Resort
Nestled just 80 kilometers away from Kuala Lumpur, Beacon Resort emerges as a haven where health, rejuvenation, and luxurious living converge. Offering 5-star accommodations and nourishing cuisine at affordable rates, this retreat provides the ideal setting for guests to delve into the realm of healthy living. The establishment's foundation can be traced back to the visionary mission of Madam Mary Chen, the founder of Beacon Hospital, who aims to extend her commitment to well-being beyond medical care.
Holistic Wellness and Relaxation: One of the focal points of Beacon Resort's allure is its dedication to holistic wellness. With 5-star accommodations that combine comfort and sophistication, guests are enveloped in an environment that promotes both physical and mental rejuvenation. The resort presents an opportunity to learn about healthy eating and wellness practices, allowing guests to not only unwind but also gain valuable insights into sustainable well-being.
Activities:
Jungle Trekking
Natural Hotspring
Location: PT 4049, Mukim Sungai Gumut, Kampung Gumut Tambahan, 44100 Kerling, Selangor.
Website: https://www.thehootonretreat.com/
Final Verdict – Choosing Your Best Retreats Places in Selangor
Choosing Your Perfect Retreat in Selangor
Embarking on a journey to select the perfect retreat in Selangor is a voyage of self-discovery, an exploration of desires and aspirations for solace, rejuvenation, and enrichment. With a diverse range of retreats that cater to various preferences, making the right choice requires thoughtful consideration. As you navigate through the options, keep in mind the following key factors to ensure you find a retreat that resonates with your desires.
Define the purpose of your retreat. Are you seeking relaxation, adventure, cultural immersion, or a blend of experiences? Clarifying your intentions will guide you toward retreats that align with your goals.
Consider the type of surroundings that resonate with you. Do you long for the tranquility of rainforests, the cool embrace of highlands, or the serenity of lakeside views? Different environments evoke distinct feelings, so choose one that speaks to your heart.
Activities and Amenities:
Think about the activities and amenities that resonate with your interests. Whether it's spa treatments, nature walks, cultural experiences, or wellness programs, ensure the retreat offers the experiences that will enrich your journey.
The style of accommodations can greatly impact your experience. Whether you prefer rustic charm, modern luxury, or traditional aesthetics, select a retreat that provides accommodations that align with your taste.
Duration: Determine the length of your retreat. Some retreats offer weekend getaways, while others provide longer stays for a more immersive experience. Choose a duration that allows you to fully embrace the retreat's offerings.
Budget: Consider your budget for the retreat, including accommodations, meals, activities, and any additional expenses. While luxury retreats offer opulent experiences, there are also budget-friendly options that provide meaningful escapes.
Reviews and Recommendations: Research reviews and recommendations from previous visitors to gain insights into the retreat's quality, service, and overall experience. Hearing from others who have embarked on similar journeys can offer valuable perspectives.
Evaluate the retreat's accessibility in terms of transportation. Consider the distance from major cities and airports to ensure a seamless journey.
Recap of Perfect Getaway & Calm Retreats in Selangor! 
1. Sekeping Serendah Retreat: Reconnecting with Nature
2. Farm Ville Cafe & Homestay: A Tranquil Retreat Amidst Sekinchan's Paddy Fields
3. The Sticks Eco Resort: Finding Peace in Simplicity
4. Katsuri Cabin: Nature's Sanctuary
5. Templer Park Rainforest Retreat: Nature's Sanctuary
6. Beacon Resort: A Holistic Retreat for Health and Relaxation
7. Tadom Hill Resort: Lakeside Bliss
8. Villa Samadhi: Urban Oasis
Common FAQ when planning a trip to escape city
Do these retreats offer all-inclusive packages?
Yes, some retreats offer all-inclusive packages that include accommodations, meals, and specific activities. It's advisable to check with the retreats for details on their package offerings.
Is Wi-Fi available at these retreats?
While some retreats may provide limited Wi-Fi access, many of them encourage guests to disconnect and enjoy the natural surroundings. It's best to check with the specific retreat regarding their Wi-Fi availability.
How do I make reservations for these retreats?
Reservations can typically be made through the retreats' official websites or by contacting their reservation teams via phone or email. It's recommended to make reservations well in advance, especially during peak travel seasons.
Can I customize my retreat experience with specific activities or amenities?
Yes, many retreats offer customization options to tailor your experience to your preferences. Whether it's arranging specific activities, dietary preferences, or spa treatments, the retreats often strive to accommodate individual requests.